Why Private Jets Are More Affordable Than You Think
When looking at affordability, private jet rentals are more affordable than you think. Here is why you should book a flight now.
Nobody is going to tell you that hiring a private jet is cheap. That's because air travel isn't cheap. The average cost of a corporate ticket for domestic air travel in the USA exceeds $509 per flight.
What we can tell you is that if you're in the air for more than 240 hours a year, a private jet rental is more affordable than you think.
Here's why.
It All Adds Up
When you choose to fly with a commercial carrier for your important business trip, you're not only paying for the flight.
In fact, airfare only makes up 34% of business travel costs. The rest comprises accommodation and land transfers, not to mention the unquantifiable cost of your time.
If you're traveling a less popular route for business, chances are you're going to have a hard time finding a flight that lands at exactly the right time for your 9 o'clock meeting.
That means, depending on the flights you can get, you'll need to stay over for a day or two before and after your meeting. Apart from the inconvenience, this kind of thing can wreak havoc with your scheduling. 
You'd have to cancel all your other appointments. You'd also lose touch with the daily operation of your business during that time, which could mean lost opportunities.
In short, the cost of a domestic flight often comes in much higher than what you paid for the ticket. If you generally make a lot of money on business trips, the cost of a private flight is minimal compared to the rewards.
Private Jet Rental vs Owning a Jet
Not everybody can afford to buy a private jet and pay for its upkeep.  Some of the related costs are salaries, maintenance, and hangarage for your jet, which all adds up.
If you'd like the luxury of owning a jet without having to bear the costs alone, fractional or partial jet ownership is another option.
These options allow you enough access to suit your needs while splitting the costs and hassle of upkeep between all the owners. 
You might not be able to afford to own a private jet or even a piece of one, but it will surprise you how many people can afford to hire a jet when needed. The secret is in sharing.
Since private charter companies have fewer customers than the major airlines, they've had to come up with some innovative ideas lately to fill their seats.
Empty Legs
Thanks to the scarcity of charter travelers, it happens that private jets return to base empty after a one-way flight. 
To recoup some of their costs, charter companies offer these 'empty leg' flights at a hugely discounted rate. Sometimes for as little as $50 more than the average commercial flight.
Whether that's worth it for you depends on timing once again. If there are flights available that could save you renting accommodation for a day or more, hiring a private jet is going to be the cheaper option. 
Ride Sharing
By hopping on the Uber bandwagon, charter platforms are able to offer much cheaper flights than ever before. 
How much is a private jet flight with these small operators? A flight from San Francisco to Las Vegas can cost as little as $59.
How it works is that private aircraft owners and private pilots agree to use their skills and assets to ferry people around the country. Instead of the aircraft sitting in hangars gathering dust, they're earning money for their owners. 
While the jury is still debating the nitty-gritty fine print surrounding the legalities of this service, the fact remains that it's cheaper to fly this way. In most instances, it's much cheaper and faster than driving too. 
By pooling their resources, both private plane owners and private pilots are able to earn extra income while saving the general public money. 
Put it On Your Card
Another option for those who need the flexibility of private jet travel is a travel club. These innovations allow you to buy an annual membership to a private jet club.
You choose what type of membership you need, based on the type of aircraft, on-board facilities and the number of flights you want. Then, you pay an annual membership fee in advance which allows you access to a private plane as needed.  
This kind of bulk purchase is a cost-effective choice for those who have a good idea of how many times a year they'll need to fly. 
Little Luxuries
It's no secret that charter jets offer many comforts in the air, but can they compare once you hit the ground? You might be sipping champagne in a leather-upholstered recliner while in transit, but you could end up with a long lonely trudge from the hangar when you land. 
Thanks to FBOs at airports all over the country, private jet hire companies can offer their clients an all-the-bells-and-whistles experience without the huge initial outlay.
Private charter companies work with these FBOs to offer passengers luxurious waiting areas between flights. Some of the facilities provided include snacks, meals, comfortable lounges, a shuttle service, movie theatres, and concierge services.
These perks are all free for the passengers to enjoy.  
Any aircraft operator can hire these services for the use of their passengers. So, there's no need to worry about missing out on your business class lounge privileges when you charter a jet. 
More About the Jet Life
If you're a prospective passenger, selecting your flight based on what you get when you land adds the final touch to your experience.
As a charter owner, you can ensure your passengers receive the very best in service by making use of an FBO on the ground.  
Keep reading our blog for more about the luxury and convenience of private jet rental.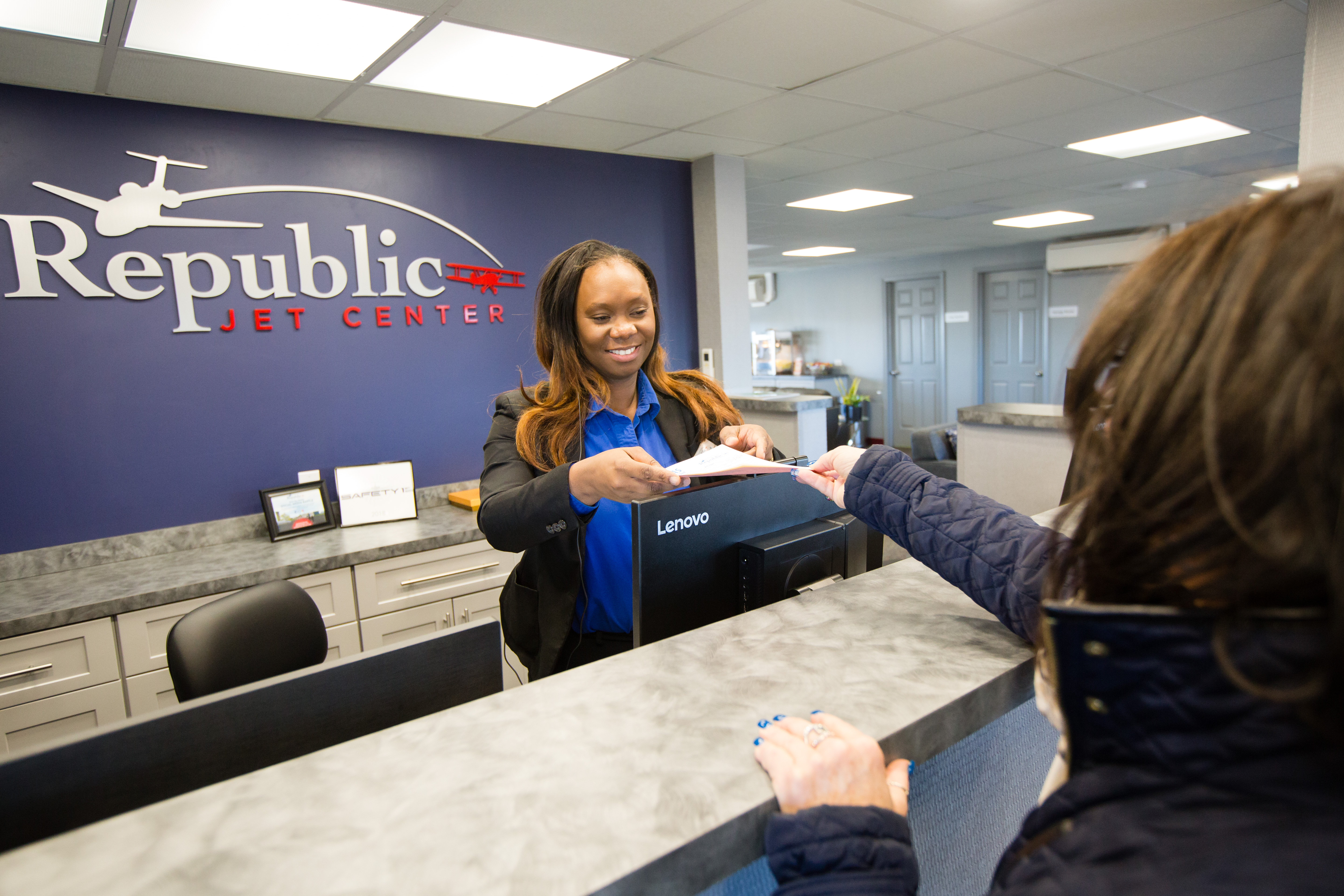 Fixed Base Operators have an important role in the business aviation industry. Learn more about what to expect from the FBO experience.
It happens every time. You rush to the airport to get to your plane on time only to have to wait, forever, for TSA.
Can't they speed it up just this once?
You finally make it to your plane and there you are again waiting in the lobby.
Kids scream. Parents scream after them. You weep silently in your uncomfortable seat. 
The whole scenario is a nightmare. 
Finally, you hear an announcement for your plane and lo and behold, it's delayed. There's got to be a better way than flying commercial, right?
Yes, there is. It's called a Fixed Base Operator. Read on and we'll tell you all about the FBO experience.
You'll never fly commercial again. 
What Is an FBO? 
An FBO or Fixed Base Operator is a private airport terminal. They are often located on the grounds of a larger commercial airport. Aviators who don't have their own hangar to operate out of often choose to operate out of an FBO. This is because an FBO can offer specialized services to both crew and passengers they could never get from a commercial liner. 
How Quick Are the Security Checks? 
You still have to go through security and customs when traveling with an FBO, but the process is much faster. FBOs don't have as much traffic as commercial airlines, so they are able to dedicate more of their attention to the needs of the individual. This means they can do more efficient security and customs checks without sacrificing attention to detail. The average wait time for the Transportation Security Administration (TSA) security checks is about 30 minutes. The same checks take an FBO a fraction of the time. 
What About My Security? 
Just because you get through security quicker does not mean an FBO is less secure than a typical airport.
For starters, the TSA has outlined minimum security requirements that all FBOs must meet. 
Because the security of their clientele is of the utmost importance, many FBOs surpass these requirements. Many have 24-7 on-site security complete with surveillance cameras. Your luggage is always under the watchful eye of an attendant until it gets secured on the plane. 
If you prefer, some FBOs will allow you to put your luggage on the plane yourself. Despite the high levels of security, be vigilant of your baggage before it gets checked. No one wants any unexpected surprises while going through customs because someone put something extra in your bags. 
Is Customer Service Better? 
FBOs tend to have superior customer service because they can offer personalized service. Not only that, they like to pamper the crew. Many FBOs offer courtesy cars to the crew, catering and even provide flight planning centers for the pilots.This means that when the crew gets on board they are well-rested and stress-free. A happy crew is more likely to return the favor and give you the best flight experience possible. 
What If I Do Have to Wait? 
Maybe you got there early and the plane hasn't arrived yet.
Perhaps some unforeseen circumstances kept the plane from arriving on time. Whatever the case, sometimes you have to wait.
Don't fret. If you're taking off from an FBO, it'll be one of the most pleasant waiting experiences of your life.
FBOs go to great lengths to keep passengers comfortable and well entertained. Many FBO lobbies have lounge chairs, big-screen TV's, Wi-Fi access and work stations.
In most cases, you won't even have to worry about food. Drinks and food are often provided to you so you don't have to go hunt it down yourself. 
As a general rule, you won't even have time to enjoy the luxurious lobbies. It isn't uncommon to get ushered directly from the security checkpoint to the plane. 
What Are the Other Amenities and Services Offered? 
As the demand for private aviation grows, so too does the variety of amenities offered by FBOs.
Concierge Services
Having a concierge service at an FBO is like having your own personal assistant. The attendant can help you book hotels, make dinner reservations and finalize travel arrangements. 
Conference Rooms
Need a quiet place to hold a business meeting before you take off or after you land? Many FBOs come equipped with the perfect space for your conference so you can attend to business even when you're on the move.
Complimentary Shuttle Service
Don't worry about hailing a taxi. Your FBO may have a complimentary shuttle service that can take you to your hotel or wherever you need to be. They won't even charge you for it. It's all part of your FBO experience. 
On-Site Bars, Cafe's, Hotels and More
The most luxurious FBOs can cater to your every whim. They have on-site bars to take the edge off, cafe's for a shot of caffeine and hotels for a comfortable night's sleep.  There are even some FBOs with a built-in theater room so you can relax and catch a movie before your flight. 
You can read more about the advantages of private flight in this article. 
Ready for Your FBO Experience? 
Now that you know more about what to expect from your first FBO experience, it's time to take a closer look at your options. Republic Jet Center is the premier FBO in New York. 
Our express service can get you from the KFRG airport to Manhattan in 14 minutes via helicopter. Our services are available with aggressive value pricing or free Luxury SUV transfer. You'll never have to worry about Air Traffic control delays again. 
For more information about the available services at our FBO, check out the press release! 
When you're ready, you can make your reservation online with ease. We look forward to serving you soon!