Unless you're a history buff, you may not know that Republic Airport was originally developed in 1927 by Sherman Fairchild and first operated in the Spring of 1928. During these Pre-World War II years the flying field was often used as a testing grounds for airplanes developed by Fairchild, American, Grumman and Seversky.
Beginning in the late 1930's and early 1940's, as American manufacturing ramped up to support the war effort, Republic Aviation improved an earlier design to create the P-47 Thunderbolt. Just over 9000 P-47 Thunderbolts were manufactured right here in East Farmingdale and flown from the site that is now known as Republic Airport.
The Success of the Republic Aviation P-47 Thunderbolt
The P-47 Thunderbolt was a pivotal aircraft and an effective short to medium escort fighter. Over the next two years, the planes would fly more than half a million sorties in Europe and the Pacific and would down some 4,000 enemy aircraft, 9,000 trains, 86,000 trucks and 6,000 armored vehicles.
The P-47 Thunderbolt was used by over 20 allied countries, broke speed records that lasted until 1989, and was the preferred aircraft among top aces including Francis "Gabby" Gabreski, Robert S. Johnson and David C. Schilling. The P-47 Thunderbolt, having lived as a cold warrior airplane after World War II is the inspiration for the A-10 Thunderbolt!
Why We Named Our Pilot Reward's Program Thunderboltz
We take our inspiration for our Thunderboltz Pilot Reward's Program from this uniquely American aircraft. A straight-forward, get the job done airplane locally built right here in East Farmingdale, Long Island.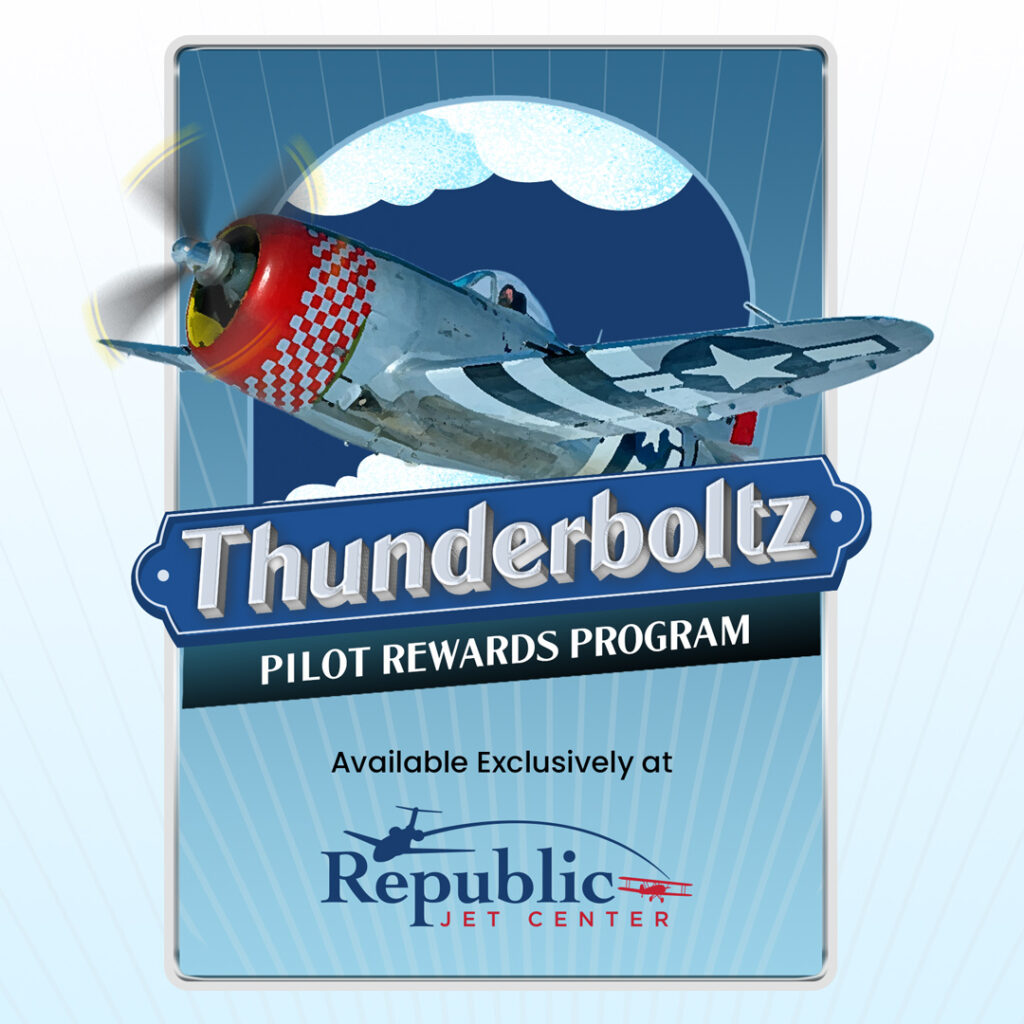 Republic Airport is also the home of the The American Air Power Museum and the Long Island Republic Airport Historical Society. The American Air Power Museum welcomes aviation enthusiasts from around the world. It's a great spot to learn more about this historic airplane and the role that Republic Aviation and Long Island played in history.