This year marks the 75th Anniversary of the Marine Toys for Tots program. We are excited to announce that Republic Jet Center (FRG) is a donation center!
Now through December 16th Republic Jet Center will be collecting new unwrapped toys in our lobby. Help us to "Fill the Box" and make this an incredible Christmas for a child in need.
The Toys for Tots toy drive has been a perennial favorite among our pilots, customers, clients and everyone who passes through our private terminal FBO in Farmingdale, NY.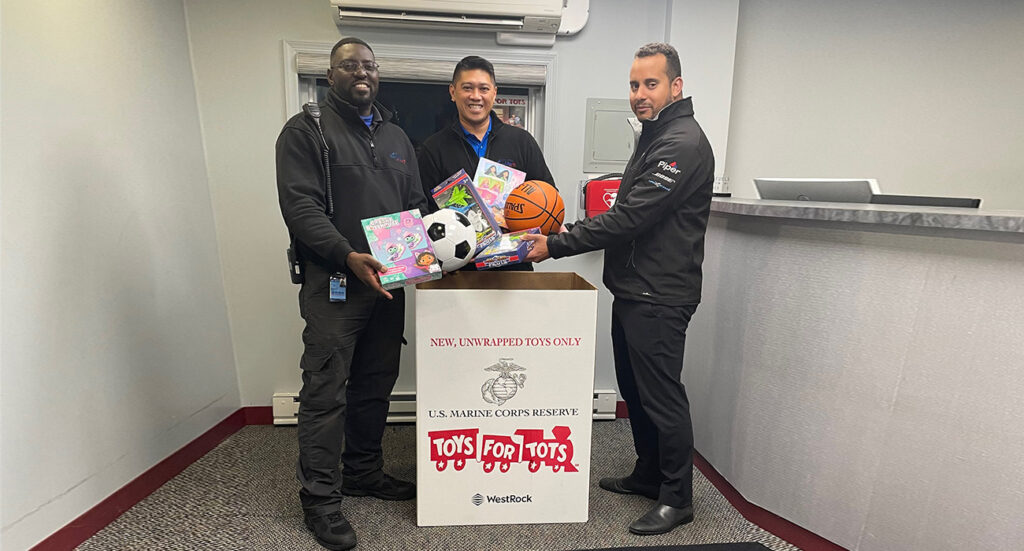 For over seven decades, the Program has evolved and grown exponentially having delivered hope and the magic of Christmas to over 281 million less fortunate children. Now, in our 75th year, the Marine Corps Reserve Toys for Tots Program also provides year-round support to families experiencing challenges and exceptional circumstances, thus helping to fulfill the hopes and dreams of millions of families and children in need across our great Nation.
Republic Jet Center is proud to be a part of the Marine Toys for Tots Program, which distributes an average of 18 million toys to 7 million less fortunate children annually.
This anniversary year will provide opportunities to highlight the Marine Corps Reserve and the Toys for Tots Program on a National level with opportunities to share the rich history, heritage, and the tremendous community support Toys for Tots receive each and every year. 
Events and engagements across the Nation will energize the American public and focus support to:
Highlight our extraordinary Reserve Marines, past and present
Highlight the impact that the Toys for Tots Program offers communities Nationwide
Highlight and thank community leaders, Corporate Sponsors, organizations, and volunteers
Most importantly, support children in need of every family seeking holiday help.
History of Toys for Tots
Toys for Tots began in 1947 as the brain child of Marine Corps Reserve Major Bill Hendricks. Hendricks's wife, Diane, was the real inspiration. She had a few handcrafted dolls and asked Bill to deliver them to an agency that supports children in need.
When Bill reported back to his wife that he could not find such an organization, she instructed him to "start one!". Maj Hendricks and the Marines in his reserve unit in LA collected and distributed 5,000 toys in 1947. Seeing such successful community engagement in 1947, the Commandant directed all Marine Reserve Sites to implement a TFT campaign transforming it into a national community action program in 1948. Bill Hendrick's civilian job was Director of Public Relations at Warner Brothers Studios. He was friends with many celebrities who he asked to help support the newly created Marine Toys for Tots Program.
As a personal friend and as a favor to Bill, Walt Disney designed the first Toys for Tots poster which included a miniature three-car train that was subsequently adopted as the Toys for Tots logo.
About Toys for Tots
The Marine Toys for Tots Foundation, an IRS recognized 501 (c) (3) not-for-profit charity, was established in 1991 at the behest of the Marine Corps to help run and support the Marine Toys for Tots Program. Since then, the Foundation continues to raise funds, purchase toys, provide promotional and support materials, manage all funds raised and donated, solicit corporate support and continue to educate the public. The Marine Toys for Tots Program collected and distributed 19 million toys to 7.3 million less fortunate children in this past year allowing them to experience the joy of Christmas and receive a message of hope that otherwise would not have been there. This community action program took place in over 800 communities covering all 50 States, the District of Columbia, Puerto Rico, and the Virgin Islands.
Additionally, the Toys for Tots Literacy Program helped bring the gift of reading to less fortunate children across the nation and has distributed over 2 million books since the program's inception in 2008. The UPS Store is the primary sponsor of The Toys for Tots Literacy Program and raises funds at participating locations throughout the year – to date they have raised over $5,000,000! Other Toys for Tots Corporate Sponsors that contribute to our Literacy Program include Delta Air Lines, Dollar General, Scholastic, and First Book (to name a few).
The Foundation conducted an aggressive public information and education program to encourage Americans to get involved with the Marine Toys for Tots Program. This annual campaign brings communities together to help bring the joy of Christmas and send a message of hope to America's less fortunate children. Our Marines together with our tens of thousands of volunteers made a difference in the lives of these children through the collection and distribution of toys and by their selfless personal example. This community action effort will assist and guide these children, helping them to develop into responsible, productive citizens.
Please join us in celebrating and recognizing the extraordinary efforts of the Reserve Marines and countless volunteers who have selflessly supported over 281 million children in need. We ask you, our faithful supporters, to be in our ranks as communities across the Nation come together in support of a common cause of helping children in need through the Marine Toys for Tots Program. We are 75 years strong!
Thank you for helping in making this holiday season a magical one for children.