Private aviation has shown strong signs of growth in the last year. Sales of new business jets grew by 10% during 2021. Turboprop and piston aircraft sales also showed positive growth, with an increase in demand for both categories.
This is good news for the industry and indicators suggest that 2022 could be a record-breaking year for pre-owned business jet sales. As demand for all categories of aircraft increases, there are plenty of opportunities for both buying and selling aircraft.
If you are looking to buy or sell an aircraft, it's vital to have a team of experienced professionals to help you through the process. Purchasing a private jet involves multiple stages and requires careful planning to ensure you find the right aircraft for your needs.
This guide to aircraft sales will explain the process in detail and help you to make informed choices. It will also explore some of the common mistakes people make when buying or selling an aircraft.
Aircraft Sales: Initial Stage of Buying an Aircraft
For anyone interested in purchasing a private jet, the whole process can appear somewhat overwhelming. There are a lot of different factors to consider in making the best choice for your specific requirements. Let's break these down and look at each aspect individually.
Analyze Your Needs
The most important question to start with is how you plan to use your aircraft. To identify the purpose of your aircraft ask yourself the following questions:
Is it for recreational or business use?
How many passengers do you need to transport? 
How often would you like to be flying?
What range would you like to have?
What amenities would you like to have onboard?
Will you lease your aircraft for charters?
Once you have answers to these questions you can advise your broker on what your requirements are. This will help them identify what size and type of aircraft will suit your needs.
Consider Your Budget: New or Used?
There is a huge price range involved with purchasing a private aircraft. You can find used piston-engine propeller planes for under $50,000. Turboprop aircraft generally cost at least $2 million, with new models of jet aircraft costing up to $100 million. 
Bear in mind that there are considerable ongoing expenses involved with owning an aircraft. These include things like insurance, maintenance, and storage. Then there are the operational expenses of fuel and crew. It's vital to factor these running costs into your budget.
Apart from the pleasure of buying a brand new aircraft, there is the added benefit of having a warranty. Some used aircraft may cost much less up-front but then cost more to maintain down the line. 
Research Aircraft Makes and Models  
Once you have an idea of your requirements and budget it's time to research what types of aircraft meet your criteria. Together with your broker make a list of the different types of aircraft and compare the strengths and weaknesses of each one. This will allow you to shortlist your ideal aircraft.
At this stage, you are ready to start exploring the market to see what's available. It is vital to do a thorough background check on any aircraft you have an interest in buying. This should include detailed records of every flight and a complete maintenance record. 
Consulting with an experienced aircraft sales broker makes the process of finding the right aircraft much easier. They have a finger on the pulse of the market and can help you find a good deal. As soon as you find the right aircraft you are ready to make an offer.
Aircraft Sales: Making the Purchase
Your broker can help you find the legal and financial assistance you need during this stage of the process. It is always advisable to consult with an attorney before signing any documents.
They will assist you in writing a letter of intent to purchase. This document will set out the purchase price, deposit amount, and an expiry date for the offer. The letter of intent allows both parties to agree on the terms and expectations of the purchase.
Once the seller accepts the letter of intent, it's time to pay the deposit. This is usually between 5% and 10% of the total purchase price. The deposit is not paid to the seller but instead paid to an aircraft escrow company or to the broker. 
Whichever you choose, the decision must be mutually agreeable to both parties. You are then ready to move forward with the purchasing process. Let's look at each stage of this procedure.
Drafting a Purchase Agreement
You will need a qualified aviation attorney to assist you with preparing this document. The purchase agreement will specify in detail all of the terms and conditions involved with the purchase. 
These will include the final purchase price and the terms of payment. It will provide terms for the pre-purchase inspection and where this will happen. 
Another important aspect of the purchase agreement is what type of warranties come with the aircraft. It will also include the terms for any possible refunds. Should the seller have misrepresented the aircraft, your attorney will ensure that you are adequately protected with this document.
Financing Your New Aircraft  
If you are not paying cash the next stage is to secure your loan. There are many companies that specialize in financing aircraft. To find a lender you can look on the database of the National Aircraft Finance Association.
Your lender will need to see a signed purchase agreement as well as your personal financial documentation before approving your loan. Most financing companies require a 15% to 20% down payment for single-engine aircraft.
The loan terms usually range from 5 years, up to 20 years on larger loans. Interest rates generally vary between 4% and 7%.
Conduct a Pre-Purchase Inspection
This thorough inspection is a vital part of buying an aircraft. Your broker will you help to identify the right maintenance facility to conduct the inspection. An aircraft mechanic who is licensed to service the specific airframe and powerplant of your aircraft is the best option.
As the buyer, you will pay for this inspection and it is worth asking for an "annual inspection" rather than the standard pre-purchase inspection. An annual inspection will go into greater detail, so you can be sure that there are no issues with the aircraft.
Part of the inspection is an in-depth analysis of the flying logbook and maintenance records. It's vital that these contain an accurate and complete history of the aircraft. 
Should the inspector identify any deficiencies they will provide you with a list of these issues. The maintenance facility will then provide you with a cost estimate to fix these deficiencies. You can use this cost analysis to negotiate with the seller, either to repair them or to reduce the price.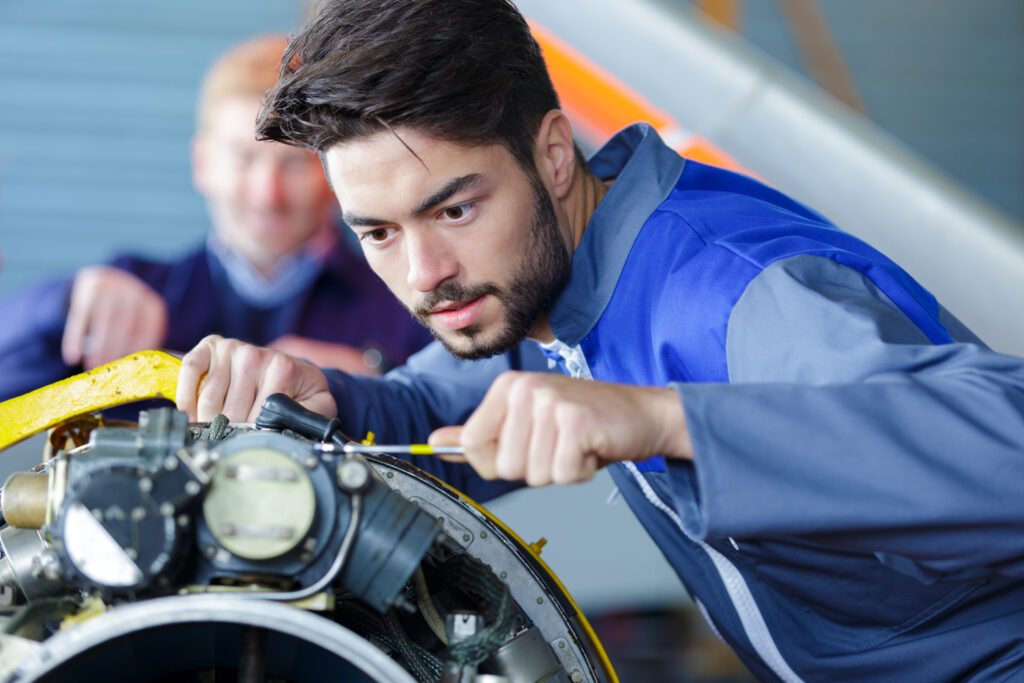 Technical Acceptance of the Aircraft
Once any negotiations regarding the aircraft sales final price have been concluded you are ready to issue an acceptance certificate. Your attorney will assist you with producing this document. It will include any updated conditions of sale or price changes following the pre-purchase inspection.
The acceptance certificate is the final legal commitment to purchase the aircraft subject to the updated conditions or price. As soon as the buyer signs this document the deposit is normally non-refundable. 
Final Closing and Delivery of Your Aircraft Sale
At this final stage, there are still a few steps before you take ownership of your new aircraft. You will need to pay the final purchase amount to an aircraft escrow company. They will disburse the funds once the transaction is complete.
The escrow company will ensure that the title of the aircraft is transferred to you. They will also apply to the FAA to register the aircraft in your name.
Before you can take ownership, you will need to obtain an insurance policy. This will cover your aircraft for flying, as well as when it's on the ground or in the hangar. It will also cover your passengers and crew. Your broker will assist you in finding the best insurance company for your needs.
Once all this paperwork is complete you'll still need to find a crew and decide where to hangar your aircraft. 
Buying an aircraft is a complex and lengthy process. To ensure that you comply with all the regulations it is essential to find a reliable broker. They will connect you with the right team of professionals to simplify the process.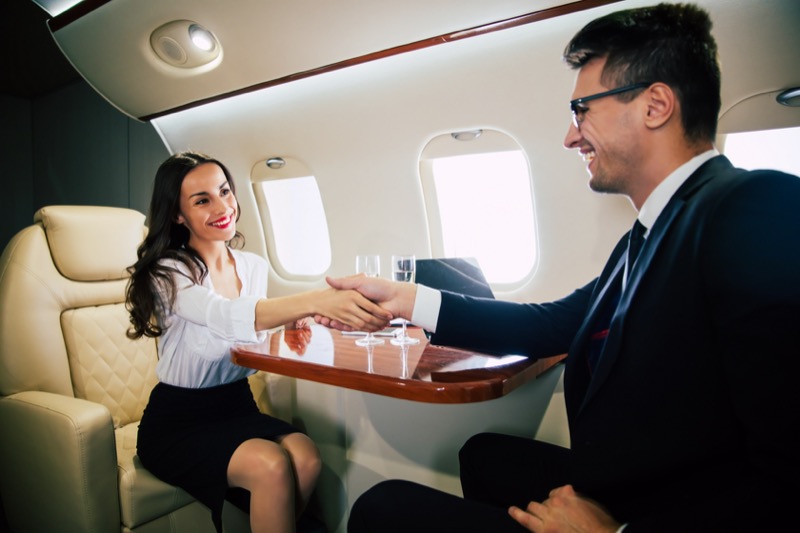 Common Mistakes to Avoid When Buying an Aircraft 
Often first-time buyers think that they can save money by going through the process of an aircraft sales on their own. Although this is possible you may end up spending a considerable amount of money on a suspect plane. A good broker will help you avoid any potential mistakes.
One common mistake that buyers make is not doing adequate research in regard to their requirements and budget. There is a huge variety of aircraft available and choosing the right one for you is not a simple undertaking.  
Another mistake is trying to save money with a substandard pre-purchase inspection. It is crucial that this inspection is done as thoroughly as possible with a reputable maintenance organization. 
Should there be deficiencies with the aircraft the negotiation with the seller needs to be reasonable. If buyers are unreasonable in their demands the seller can walk away from the deal – with your deposit!
Lastly, it is of utmost importance to use an escrow company to facilitate the transfer of funds. There are too many incidents where buyers have lost their money by transferring money directly to the seller.
Selling an Aircraft 
The process of selling an aircraft is somewhat less complicated than buying one. It is still advisable to use an experienced broker to help you through the process. They have an in-depth understanding of the market and can leverage their network to get you the best price for your aircraft.
Let's look at some of the key components to successfully sell your aircraft.
How to Appraise Your Aircraft's Value 
There are many factors involved in accurately determining the value of your aircraft. These include the condition of the aircraft as well as the value of equipment like the avionics and wheels. By using the prices of similar aircraft types on websites and magazines you are unlikely to get an accurate value.
The asking price depends on current market conditions and what the demand is for your type of aircraft. This market research takes experience and needs to be constantly monitored to make a valid assessment. This is where a broker can help you find a realistic price for your aircraft.
It's important to fix any deficiencies the aircraft has before doing the evaluation. Failing to make these repairs can significantly reduce the possibility of finding a buyer. Equally important is making sure that all the maintenance and logbooks are up to date. 
Always disclose the condition and history of the aircraft. This may lower the value but failing to do so can lead to litigation. If your aircraft has suffered any damage it's vital to let your broker, and any potential buyers know about this.
Are You Looking to Buy or Sell an Aircraft? 
Aircraft sales are best handled by a team of professionals. At Republic Jet Center we have the experience and knowledge to help you through every aspect of buying an aircraft. 
If you're in the process of an aircraft sales, we have an extensive network of brokers that can market your aircraft. We can also assist you with finding reliable accounting and legal professionals to represent you during this process.
For more information about private jet sales, contact us online or call us at 631-881-9501.